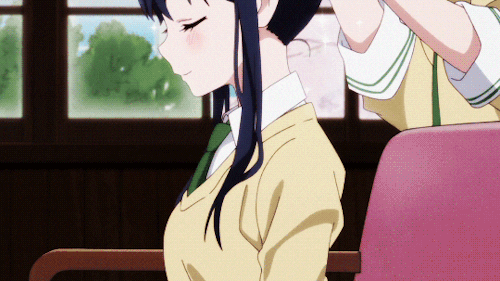 Let's do this thing.
Hey guys it's me evescapes and welcome to the 17th day of my intake of the "30 Day Blogging Challenge" where in you guys could slowly get to know me! I hope you guys enjoy my journey through this challenge. Check out my blog and see my progress!
So without further ado, let's begin~
DAY SEVENTEEN
Welcome to the 17th day of this challenge! Honestly while doing this I have a couple of projects and requirements I have to finish, so yay for me! Of course I wouldn't want to miss today's blogging challenge so let's start. In today's topic I will be listing down ten things I like and dislike so if you're interesting in knowing them, continue on reading!
note: this is almost like the turn ons and turn offs but more specific
---
ten things i like
chocolates
My love for chocolates is truly beautiful. Chocolates is my number one comfort food (along with probably hundreds of thousands of people in the world) and just having a small intake of chocolate brightens up my day and mood.
anime and manga
This is almost like an escape from the real world in my perspective. I like watching different kinds of anime, usually psychological horror ones and romance shoujo types of anime. In manga I usually focus more on psychological ones, but one shots also peeks my interest.
libraries and books
I usually love the scent of local libraries but due to my busy schedule I only get to visit my school library which had the mix scent of perfumes and Axe body spray. I also love to look around the different variety of books and of course reading some of them that peeks my interest.
blogging
Even if I just started blogging a month ago and my website mostly consists of this daily challenges, I can't help but find the whole 'writing for people to read my thoughts online' fun and interesting. I do plan on doing more different kinds of lifestyle and anime blogs so once I finish this challenge so stay tuned for that and feel free to follow me!
notebooks
I don't know why but there's just something about notebooks that makes me want to buy them and not use them in the end. In where I'm from we don't have Target nor Waltermart so it disappoints me because there's a ton of cute notebooks in Target that I would like to buy. Although, I do enjoy buying "JoyTop" notebooks since it's cheap and affordable in where I'm from not to mention they're cute.
youtube and movies
During my free time I usually watch some sort of movie, anime or videos in YouTube. It's been a habit of mine since 5th grade. Also I enjoy watching movies online since I'm a broke ass students who struggles to afford a movie ticket and popcorn.
snow app on phone
I love using this application mostly because of it's cute stickers and filters! My favorite ones would be the cat ears filter or the blushy type filters. I only use this for selfies by the way.
poems and lyrics
I for one do create my own poems and lyrics just for fun. This helps me release all my feelings and thoughts and just help me realize what I want to say at that particular moment.
pugs and corgis
These two are my favorite type of dog breeds. I just love how adorable pugs and corgis are, they deserve lots of love and attention! Sadly I'm not allowed to have any pets around the house since my mom's allergic to fur, but someday when I'm older I'll be adopting one from a shelter. I just wanna kidnap one from the streets and give it a warm snuggleee ❤ 
hoodies and sweaters 
I'm usually seen wearing a hoodie or a sweater, or any kind of form of jackets. I find myself comfortable wearing hoodies and sweaters, and I just love the feeling of soft cloth against my skin. Such comfort, such wow ❤
ten things i dislike
spoilers
I hate the fact that my classmates or people I follow online starts spoiling events from my favorite movies or books or anime's. It just kills the fun of it and it just makes me disappointed and sad. Like ughhh!! Why would you do such a horrible thing to make my suffer!! 
being pressured to do something
I don't mind being relied on when it comes to group works and projects, but I just hate how some people would put lots of pressure on you to finish the work. It doesn't help me at all, it just stresses me out even more and sometimes the outcome doesn't end up what I expected because I was too stress to make it nice, or what I wanted it to be. Most of the 'leaders' in our class is like this 😦 
traffic
In where I'm from its normal to have traffic every where you go. But the kind of traffic where it takes up to 2 hours just irritates me. I usually sleep on the whole ride but having to waste 2 hours of your time just because of traffic is just… sad. Not to mention it stresses me out. Honestly went up to 4 hours of traffic once, when it was supposed to be like a 30 min drive.
toxic people
My definition of 'toxic people' would be those who are egotistic and arrogant. Those who can't accept their mistake and find themselves perfect, and when they are confronted they act like they're the victim. It's just ridiculous. I'll be doing a story time soon~
running out of coffee
There's a store nearby our school that usually sells small and medium coffee that helps keep my day going. But sadly there are days where they'd run out of coffee or have none in stock. This saddens me, a lot. I NEED MY DAILY DOSE OF CAFFEINE. 
boredom
I just hate the feeling of being bored.
being ignored
It's not that I'm an attention seeker or anything, I just don't like it whenever those I'm close to ignore me for no reason. Unless there's a reason to it then I respect it. This mostly happens when I need them the most, like im feeling emotional or something.
slow internet
Mostly whenever I'm streaming videos and movies online, or downloading games on Steam. This often happens because my brother would be streaming at the same time as I do, or the internet is just being sh*tty.
being broke
It's my fault for spending too much money on food. I am trying to save as much money as I can, and also trying to stop my buying impulse. It's just terrible to look at my wallet and see nothing inside.
long stairways
If you guys didn't know, I'm actually afraid of stairs and falling backwards. So whenever I see a long stairway and I need to cross it in order to reach the direction I'm going to, I'll be legitimately crying and screaming internally in hopes I won't fall and drag someone with me.
It was easy to list down all the things I like, not to mention I had more to write down but was limited to ten. On the other hand having to list down ten dislikes was awfully hard to do. I hope you guys enjoyed the 15th day of this challenge, don't forget to check my website and see my whole experience in taking this challenge!
---

Also I hope you enjoy todays blog and don't forget to leave a like and comment down what you'd like to hear from me next. Don't forget to follow for weekly blogs. ♡
see you again my lovelies☆.。.:*・°
sincerely eve ☆*。★゚*
© pictures to the artists