Welcome to my sixth day of the "Colorful Anime Challenge" hair version! Feel free to try the challenge yourself! Don't forget to tell me in the comments or tag me, I would love to see your personal opinion with this challenge. Also I did not create this challenge or whatsoever, I just came across this challenge in Google and Anime Amino and would love to spread it to this community. So let's all do this together shall we?
---
favorite female with blonde hair 
Misa Amane from Death Note. You must be wondering why I chose her well I do have a few reasons to why I do. One is she's attractive to my eyes, pretty and kind of a revealing time of person. Two, she's childish which I found amusing at only a few times. Three, she was the first person I thought of.
---
favorite male with blondehair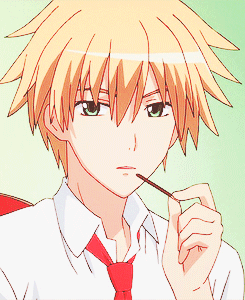 Usui Takumi from Kaichou wa Maid-Sama! Of course I had to choose him for today's challenge! You could obviously tell I was a fangirl of his when the anime came out. I just love how sarcastic he is and how he teases and bullies Misaki from time to time, and not to mention how he shows his love to her or becomes a gentleman is just utterly adorable.
---
Also I hope you enjoy todays blog and don't forget to leave a like and comment down what you'd like to hear from me next. Don't forget to follow for weekly blogs. ♡ scroll down below to follow please to support a potato~
see you again my lovelies☆.。.:*・°
sincerely eve ☆*。★゚*
credits pictures to the artists